Latest additions in our vintage sheet music archive.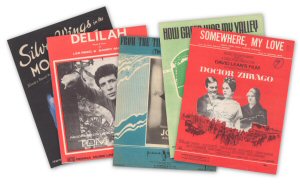 One of the largest online sheet music stores
Search our extensive archive of old sheet music and popular songs from the Victorian age through to post-war favourites. Dustymusic.com has gathered a unique collection of sadly discarded gems to keep alive the wonderful tradition of song.
The condition of the vintage sheet music varies considerably and every effort has been made to faithfully represent each title. We only offer sheet music which may be used as it was intended, and we have not attempted to remove personal markings by previous owners which we believe add to the history of each piece.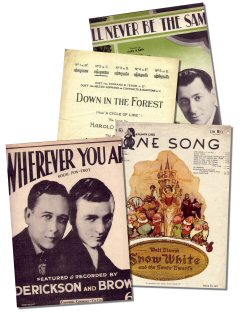 The Dustymusic.com archive contains a wealth of social history which has been saved and made available to all who wish to preserve and relive past magic.
Our innovative site allows a simple search facility of title, first line, composer, and lyricist, to quickly locate a specific piece, or simply browse the archive by alphabetical title sorted into convenient categories.
Much of the sheet music contains photos of the artists that promoted, broadcast, or recorded each piece, or starred in the movies or musicals from which it came. Try the Keyword search to scan the cover information for artists, actors, actresses, venues, movie titles or musicals.
We are actively acquiring music all the time and adding to the stock inventory, so please bookmark this site and revisit us regularly.